Personalized Picture Puzzle Valentine's Day or Romantic Anniversary Gift for Boyfriend
$19.95 USD
Regular price
$29.95
Gift for Valentine's Day, gift for a friend , Jigsaw Puzzle for gift , Custom Jigsaw, Photo Puzzle, Present Gift For Him, gift for Her.
Enjoy piecing together your favorite memories with our custom jigsaw puzzles. This is a great gift for birthdays, Christmas, anniversaries and valentine's day.
The best gift for couples who like to play games with each other. An amazing gift for your wife/husband for a Wedding Anniversary. With this Jigsaw, boring nights can be changed into enjoyable nights. :)
Best personalized gift for your loved one! Memorize your special moments with a custom photo puzzle, send a private message! Great gift for special days as celebration, Get your Personalized Puzzle Gift Now! This personalized puzzle is the perfect anniversary gift for your husband, wife or favorite couple. Made with high-quality chipboard pieces and featuring a custom photo, it ships in a giftbox to make the perfect present.
We know you want a gift that is unique and meaningful. Select your text and send in your favorite photo, and we will customize the puzzle for you free of charge.
Production Time: 3-7 business days (depending)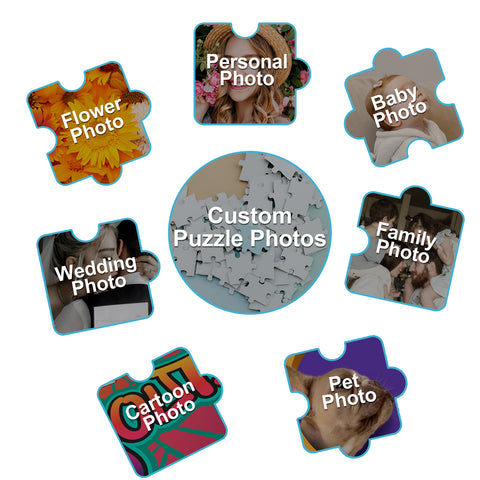 We have 6 different puzzle size options:
70 pieces : 20×15 cm / 7.8×5.9 Inches
120 pieces : 25×20 cm / 9.8×7.8 Inches
200 pieces : 35×25 cm / 13.8×9.8 Inches
300 pieces : 40×28 cm / 15.8×11 Inches
500 pieces : 52×38 cm / 20.5×15 Inches
1000 pieces : 75×50 cm / 29.5×19.5 Inches